How To Choose Your Triple Monitor For Your Laptop
Since 2020 our work mode has been in constant change. From going to the office every day. Then to not going. Today we do part-time now. Additionally, the different workplaces option there exist as well. Just heading to a coworking is new to many of us. 
If you are like me, who is changing workplaces now and then, plus your workload needs you to have many windows open, consider getting a set of extra monitors.
Your laptop´s requirements.
First and foremost, if you want to connect two extra monitors to your laptop, you need to check how many monitors your GPU supports. Additionally, how many graphics ports (DVI, HDMI, DisplayPort, and VGA) exist in your laptop.
DVI 
The acronyms refer to Digital Video Interference. They are color coded with white labels and offer similar video quality as HDMI.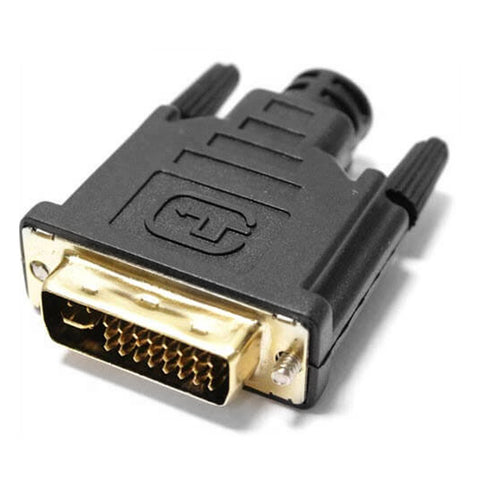 HDMI 
The acronyms stand for High-Definition Multimedia Interface. Thisstandard port connects various video devices.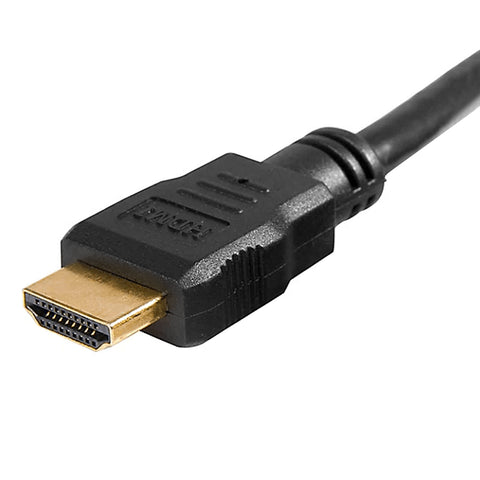 Display Port
This is the latest digital standard for ports. You can connect monitors and computers with it.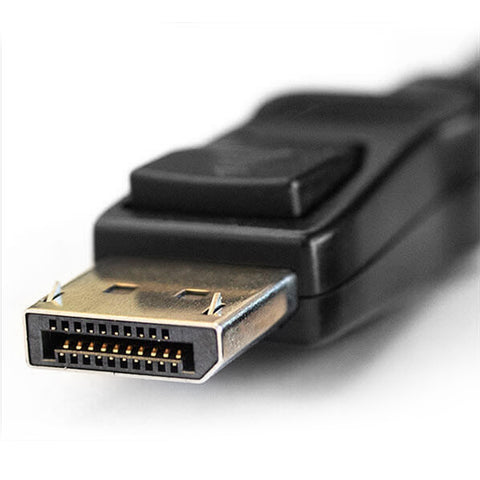 VGA
The acronyms stand for Video Graphic Array. This is a standard analog port also used to connect monitors and computers. They are color coded as well with blue labels. This is the last option to consider, since the images are fuzzier and less vivid.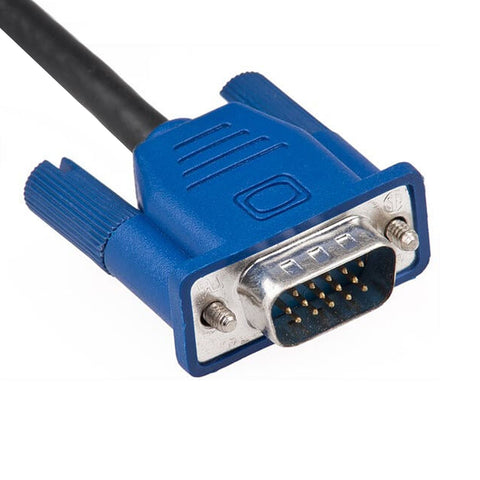 Check your graphic card(s).
Now you know the ports your laptop can have, maybe you need to purchase an adaptor. The next thing is to know how many of the ports are there. This will show you if your laptop is physically capable of handling all that graphic power. 
Generally, a laptop has two ports, and very unlikely have three. This means that you need to purchase an extra hardware. Here we will explain what to do if your laptop supports a triple monitor and what to do if it doesn't.
Your laptop supports triple monitors.
Be certain you have all the cables necessary to connect everything. This means that if you have two HDMI ports and one DisplayPort, you need those specific cables.
Next, check which monitor you will connect to which port. Referring to the abovementioned ports, you will connect to two HDMI and one to DisplayPort input.
If you do not have the cables, you can purchase them, or if they do not fit, you can also buy an adapter.
Your laptop doesn´t support triple monitors.
Don't panic; if your laptop doesn't support triple monitors, you have different options in which you can still adapt it.
External multi-display adapter
Easy to install. Plug one of the cables into your USB port and the other into DisplayPort. This will send the video signal from your laptop to your adapter. If you are a gamer, consider this to be priority.
USB to HDM adapter
This is, in my opinion, the easiest and cheapest option. The only counterpart is that you will need to purchase one adapter per additional monitor. However, they are not large, and just plug two into your laptop's USB ports, attach the monitor on the other end, and BOOM, you are ready!
This adapter is not suggested if you are a gamer.
Gamers and triple monitors.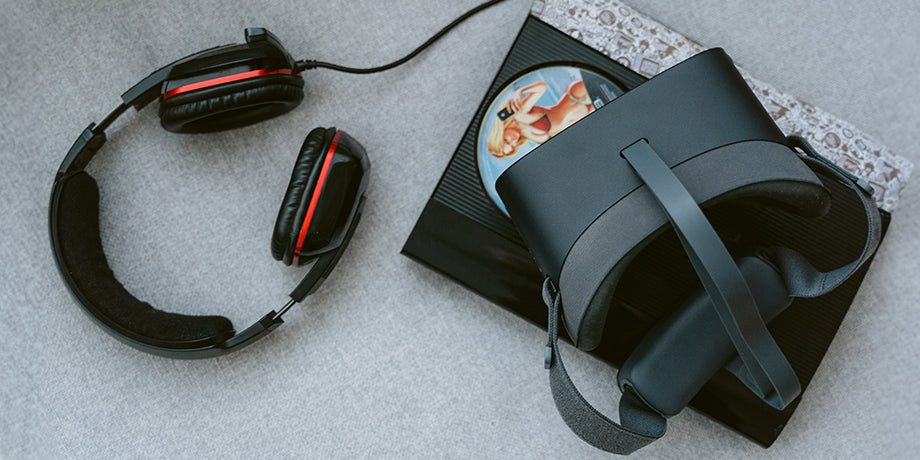 This is a perfect option if you want to do some three-panel gaming. It is highly recommended that you consider the following.
The graphical power your computer has. This is relevant since your laptop will display several images at once with a single motor. Meaning that the GPU has to push
many more pixels.Setting your graphics properly will ensure that you can have a good gaming experience.
Not all games are triple-monitor compatible. You need to set the correct
resolution so the image spans across all the monitors. In other games, you might want to play with as many settings as the game allows.
Getting an identical triple monitor for gaming will give you a better experience, and you will not run into issues with resolution, distortion or color calibration.
Work and triple monitors.
Working with multiple displays will definitely make your life easier. This can be with your workload, presentation, comparing spreadsheets, writing articles, etc.
A larger screen improves productivity by allowing you to access multiple tabs and switch between them without getting confused. This will help you with your organization, showing you your relevant tasks at once. 
Another factor to consider is eyesight. Especially,  if you are over 30 and you are stating to loose some focus. You can make your fonts larger, zoom in one part of you spreadsheet, and save some of those nasty headaches you get after long hours behind the screen.
The ideal monitor.
You may think you have all the information you need. But wait, there is more. You will encounter many different options and sizes of portable monitors. Here is a brief description of our monitors.
With just one cable, this monitor can improve your life in one plug. The output power of your laptop's Type-C and USB-A ports needs to be over 10W. You can connect it, and you are set to display your work presentation in a minute.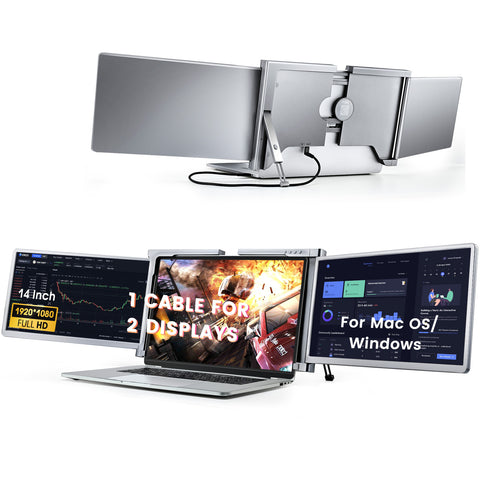 With just one cable, this monitor can improve your life in one plug. The output power of your laptop's Type-C and USB-A ports needs to be over 10W. You can connect it, and you are set to display your work presentation in a minute.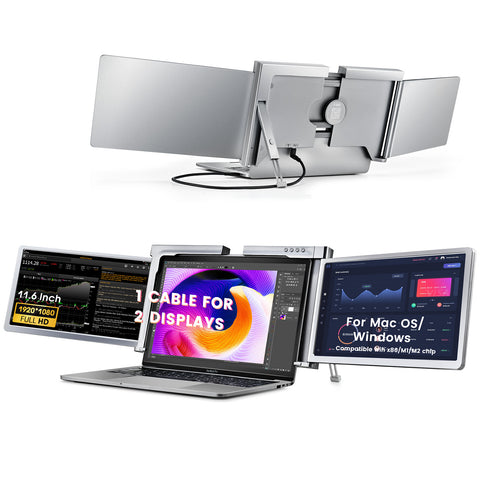 We have mentioned that you must ensure your laptop is compatible with the extra monitors you would like to link. Well, this set is the perfect size and is compatible with Mac M1&M2. It also comes with just one cable. You can read more about it on the specs in our website.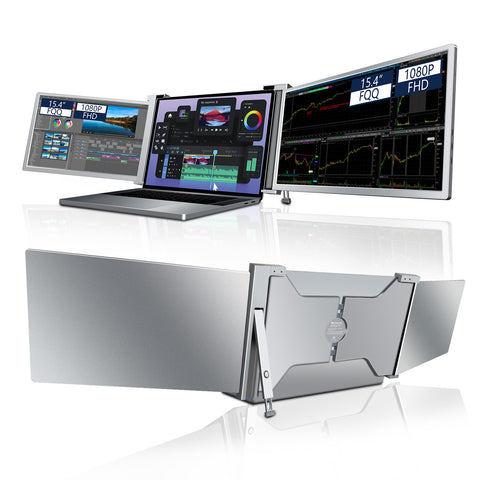 This is the largest screen, 15.4" inches, bringing you an immersive visual experience. It is compatible with Windows, Mac, and Android. It provides excellent stability, making a more secure and stable viewing. This can boost your gaming or productivity to a greater extent since the monitors are far larger. You can turn them 90° so your coworker sitting next to you does not miss anything you are explaining.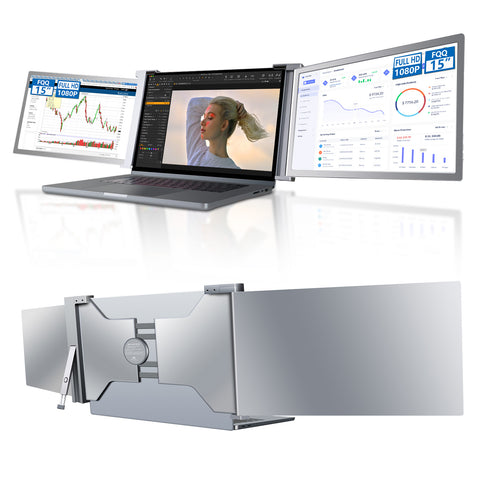 We have talked about our large screens. Wconsider this to be our best intermediate triple portable screen. The visual experience is smooth and clean (1080p FHD) IPS screens. It is also compatible with Windows, Mac, and Android. The design makes it easy to rotate, offering greater flexibility to suit your work necessities. The most significant advantage is the easy way to carry it anywhere and everywhere.
To conclude.
The digital era will never end to improve. This new generation of portable devices has come to change the way we work.  The more you know the benefits of owning a triple monitor, the better work efficiency or gaming experience you will get.
Bear in mind compatibility, and the use you will make of it, and you will find the perfect monitor for you.
---